Who doesn't love Thai food? – especially Thai fast food or อาหารตามสั่ง /aa-haan-taam-sàng/ (cooked to order food) that you can find on any corner of the street.
I believe you know some stir-fried Thai dishes already, however, there are a lot more to try. Here is a list of "10 Local-recommended Thai Stir-fried Dishes" for you to discover new tastes of Thai food. (No worries, I will make sure that there are some non-spicy foods included).
1. ผัดกะเพรา /phàd ka-phraw/
This stir-fried basil leaves with minced meat is so popular that some people even call it เมนูสิ้นคิด /menu sîn-kid/ or the menu that you don't need much to think of. กะเพรา /ka-phraw/are sweet basil leaves which give a particularly nice smell to the dish (so nice that some people have to sneeze). 
The main ingredients are meat (usually minced pork or chicken, crispy pork or even seafood), basil leaves, garlic, chili, and some sauces.  The way it is cooked is so easy and takes less than 10 minutes usually. This makes ผัดกะเพรา /phàd ka-phraw/ the most commonly ordered wok food ever.
Note: Add ไข่ดาว /khày-daaw/ or fried egg as a perfect side dish
Spiciness: 
2. หมูกระเทียม /múu kra-thiem/
หมู /múu/ is pig or pork, while กระเทียม /kra-thiam/ means garlic. This dish is expectedly to be so garlicky and so good as well. The name refers to the main ingredients which are pork and garlic. 
หมูกระเทียม /múu kra-them/ is one of my favorite dishes, especially when I want something less spicy. If you like oyster sauce stir-fried, you would like this dish.
Spiciness: 
3. คะน้าหมูกรอบ /kha-náa múu-kroorb/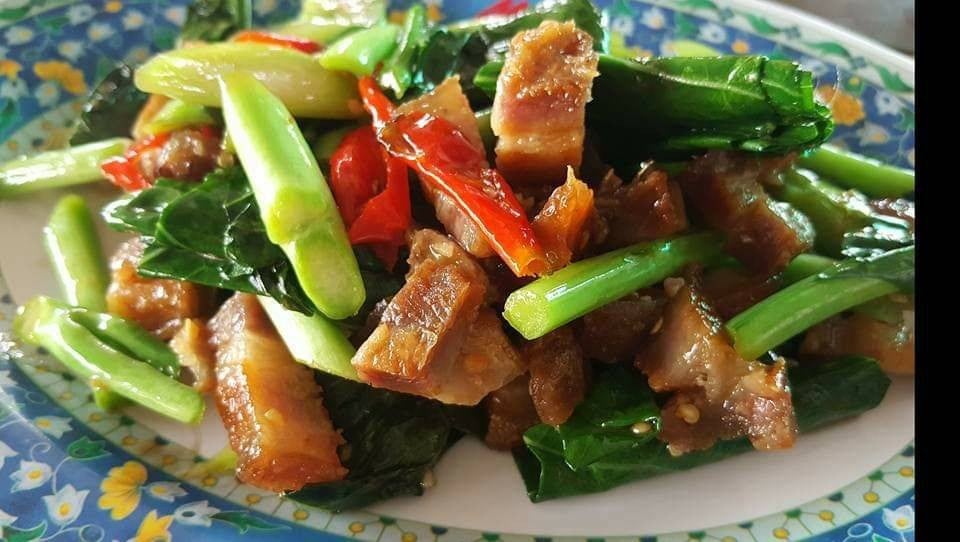 Stir-fried Kai Lan with crispy pork. – I bet some people haven't tried Thai crispy pork or หมูกรอบ /múu-kroorb/which is deep-fried pork belly. It gives you an interesting texture in your mouth as the skin part is crispy, while the meat is soft and really fatty. 
The crispy pork is one of the most famous meat types cooked in various Thai dishes. On the other hand, คะน้า /kha-náa/ is Kai-lan, famous Thai-Chinese vegetables for stir-fried dishes. With these two main ingredients, the magic in the wok happens.
Spiciness: 
4. ข้าวผัด /khâw-phàd/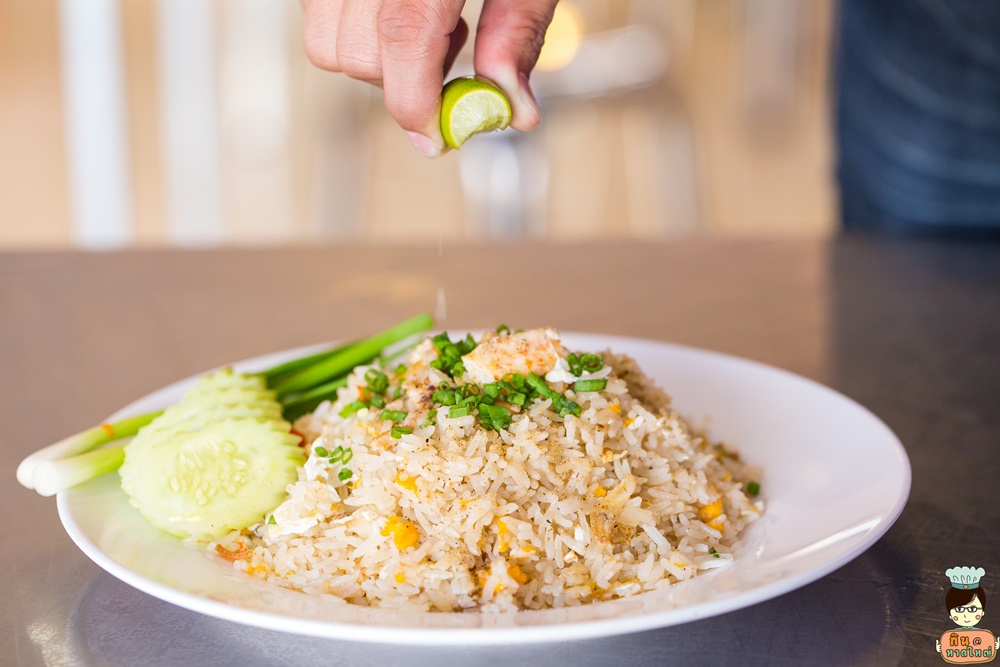 The most boring but famous dish ever! ข้าว /khâw/ means rice and ผัด /phàd/ means stir-fried. Therefore, this dish is just "Fried Rice" Most of the time, they will add some protein sources like meat, seafood or egg, however, you can add only vegetables such as tomatoes, carrots, coriander, etc. I would suggest you squeeze some fresh lime on top to make the dish smell even better.
Spiciness: 
5. ผัดพริกอ่อน /phàd-prík-òn/
Stir-fried with green pepper – Honestly, I order this dish pretty often, especially I want some this flavorful, but not too spicy. พริกอ่อน /prík-òn/ is a type of green pepper. This type of pepper might make you sneeze but not tear up. With a specific smell and sweet taste, it goes so well with หมู /múu/ or pork. Just a small warning, it is slightly greeny. Some people don't like the smell too much (but I do 555)
Spiciness: 
6. ผัดผงกะหรี่ /pàd-pông-ga-rìi/
My foreign friends are yellow curry fans. They love this dish so so much! This yellow curry dish goes well with most meat and vegetables. For me, I feel it is a bit heavy but it can be so good with ปูนิ่ม /puu-nîm/ or soft-shell crab and it is not spicy at all. Yeeeee!
Spiciness: 
7. ผัดซีอี๊ว /phàd sii-íew/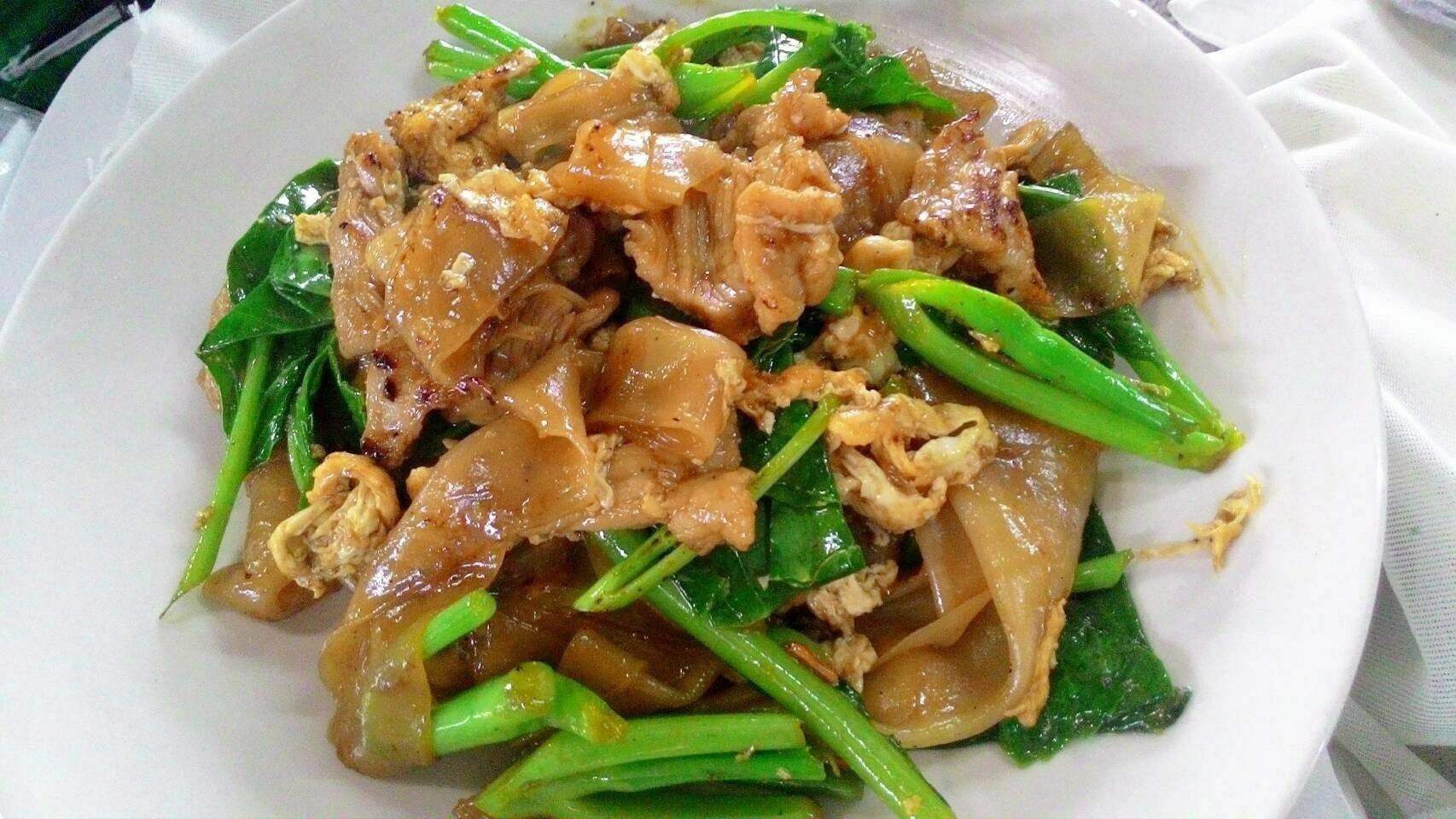 The first stir-fried noodles on the list! This dish is the perfect match for people who like noodles. ซีอิ๊ว /sii-íew/ or soya sauce and garlic make this dish smell so good and taste so mild. Many of my foreign friends order this dish almost every time when they go for Thai food.
Spiciness: 
8. ผัดผัก /phàd-phàk/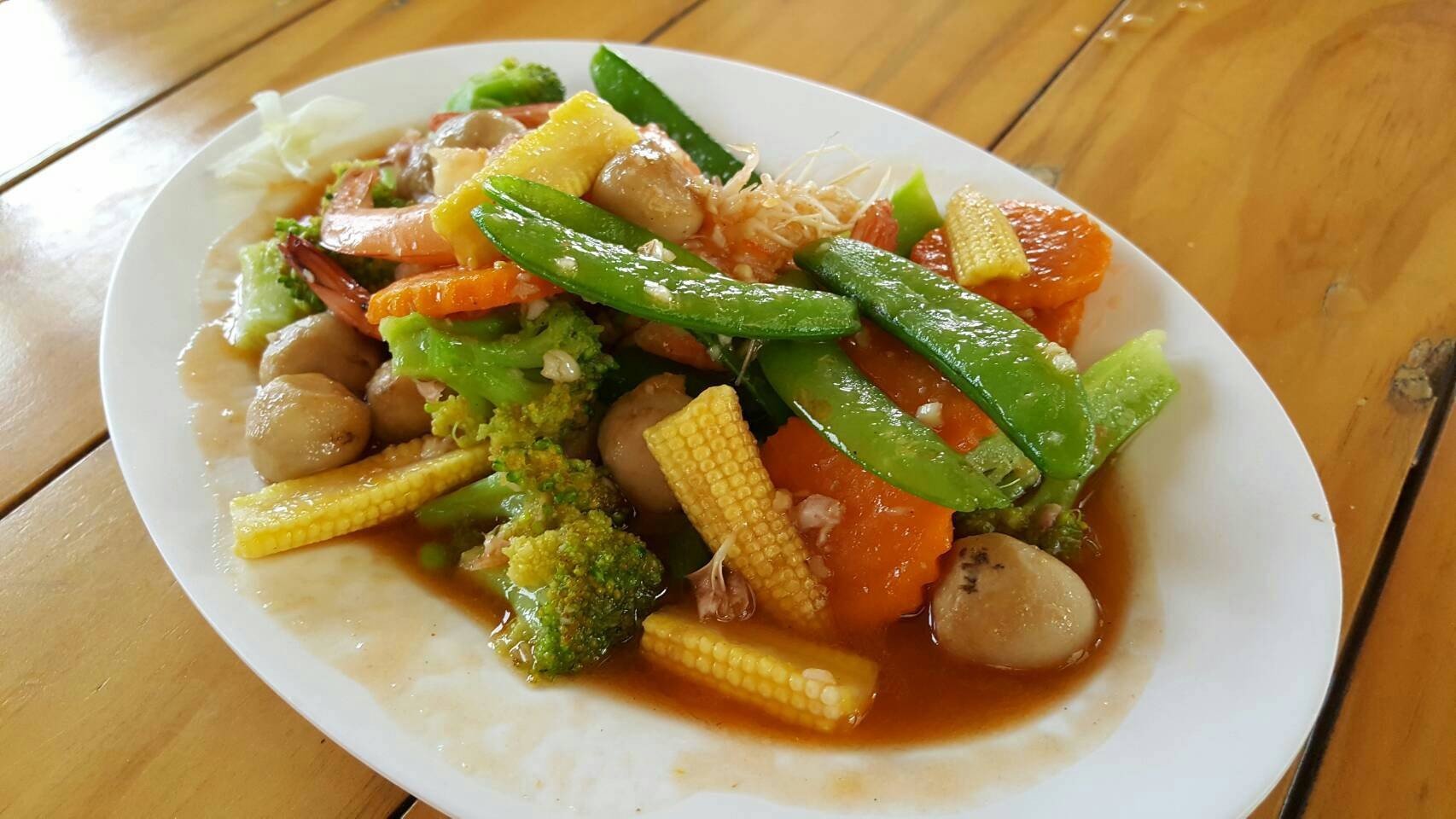 As ผัด /phàd/ is to stir-fried and ผัก /phàk/ is vegetable, clearly this dish is "stir-friend vegetables". Variety of vegetables such as cabbages, carrots, green peas, baby corn, etc are stir-fried in a wok. This is a perfect dish for vegetarians as well as anyone who likes to taste the freshness of the vegetables that are in season.
Spiciness: 
9. สุกี้แห้ง /su-kî-hâeng/
สุกี้ /su-kî/ refers to a soup dish in which glass noodles are cooked with some vegetables. The speciality of this dish is the sauce which is "sukiyaki sauce" – a special chilli sauce made from coconut, fermented tofu, tahini, peanut butter, sugar, garlic, lime, and spices.  
However, สุกี้แห้ง /su-kî-hâeng/ is stir-fried glass noodles, rather than soup as แห้ง /hâeng/ means "dry" (no soup). I would really recommend this dish. It has a unique taste and so popular for local Thai people, but be careful. The sauce is really hot and spicy.
Spiciness: 
 (depends of how much you add the sauce)
10. ผัดผักบุ้งไฟแดง /phàd-phàk-bûng fay-deang/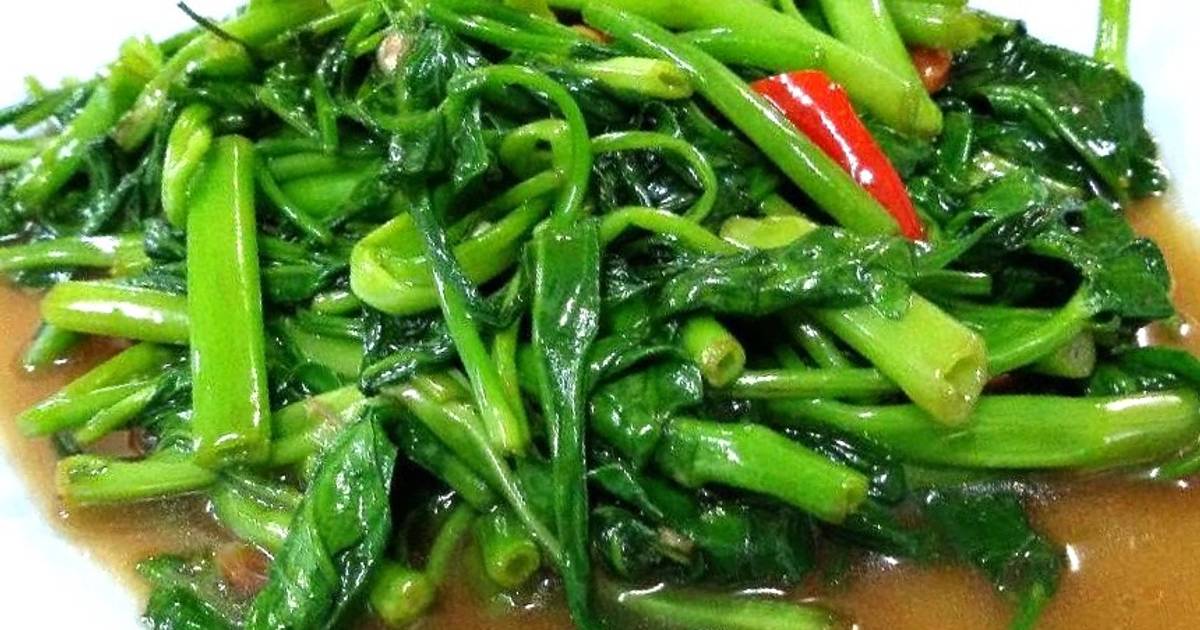 Even though the name of this name is complicated, it is the most popular stir-fried dish among foreigners. You might know this dish as "Morning Glory Stir Fry". Morning glory is the ideal stir-fry vegetable. It is very easy to cook and takes only couple mins. With the nice smell of garlic and chili stir-fried in the wok, you will not be able to resist trying this dish.
Spiciness: 
We have already gotten trough the top 10 local-recommended Thai stir-fried dishes. What menu is your favorite? Enjoy eating Thai food as enjoy learning  Thai with BananaThai.