One cannot deny that the competition among startups and big companies providing online products and services in Southeast Asia has been dramatically increased in the past couple of years. To live in Bangkok, everything seems to be really convenient. One touch on the screen can bring food, taxi, delivery, goods and many more things. In this post,  I (Kru Smuk) will recommend my "top 10 must-have applications used most when living in Bangkok". 
1. Line


Without hesitation, I pick "Line" application to be the most must-have application on your smartphone as everyone in Thailand uses Line as one of the main online channels to connect and communicate. With many functions including Free Chat, Voice, Video Calls, Location, Timeline Update, and other additional functions, Line became the most used application in Thailand.
Tip* You would say "เล่นไลน์" /lên Line/ as in "to use Line",  rather than "ใช้ไลน์" /cháy Line/
For example, คนไทยเล่นไลน์ทุกวัน /khon-Thai lên Line thúk-wan/ = Thai people use Line every day.
2. Lineman
Line Co., Ltd, became more and more active in the Asian Market, especially in Japan and Thailand. "Line Man" application is a product linked directly from "Line" application in which they are operated and developed by the same company. This "Line Man" application makes my life so much easier as it offers delivery and messenger service from one door directly to another door.
This product supports not only individual needs but also small businesses and corporate. You can order food, send your love a flower, pick up laundry or even ask someone to buy medicine when you are sick in bed. It is the real must-have application to facilitate your convenient lifestyle.
 3. Grab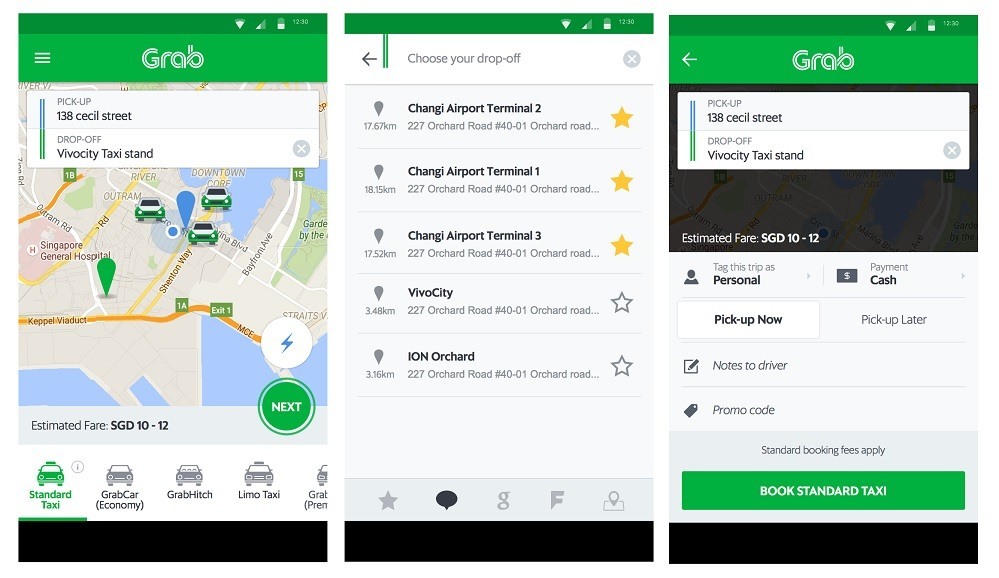 How could it be more convenient, if a car driver picks you up directly from your apartment door when it is raining? Sounds good yeah? "Grab" application is the application I use most often in Bangkok. There is a variety of rides such as Grab Taxi, Just Grab, Grab Car, Grabbike, GrabXL, etc. The clear price, duration and driver information make this application so useful and easy to use.
Ps. I do support local taxi sometimes. However, using Grab application is much faster and easier to get taxi service. (Sometimes even cheaper)
4. Eatigo

I love eating so does everyone and there is so many great restaurants in Bangkok to discover. Have a great application to get good food is a must! "Eatigo" is one of my favorite applications to get a discount of up to 50%  from several restaurants.
There are also in-app rating and review sections to help me decide where to go.  Even though there are options and times limited, I still love to discover new restaurants or brunch sets with great deals. I just love eating with a discount. haha
Ps. The food is discounted according to your booking but please keep in mind that VAT and service charge are not included and discount cannot be used with drinks.
5. Lazada  
Shopping on the screen is super fun! "Lazada" is an online market platform that allows you to sell and buy products online. Thousands of products are categorized to be easy to search. Photos, price, usage and important information are provided. Many times that vendors offer discounts and free delivery. You can also see the duration of the delivery and it is mostly around 5-7 working days for domestic distribution. It is just the way to fun shopping while saving time and energy.
Ps. You always have to be careful when you buy online products from individual stores. Check the information as well as review, and think whether it is reasonable or not. Sometimes cheap products come with cheap quality, but many times you can be really lucky on this platform.
6. Cookly

"Cookly" is an online platform to book cooking classes around the world. Although "Cookly" targets travelers visiting the country, I still really appreciate this application as it helps me find many interesting cooking classes around Thailand, including Bangkok and Chiangmai. Time, location, price and important information are provided as well.
What I like about this application is not only booking a cooking class just a touch on my screen but also to explore my home cuisine and learn the culture of food and local ingredients. This is one of the best ways to spend my weekend in Bangkok.
7. Traveloka
I love traveling, but booking flight, hotels and transportation are always complicated and time-consuming. However, "Traveloka" application usually saves my trips. One thing I like about this application is that it is so easy, clean and clear to see the information. In addition, Traveloka often gives discounts.
To be honest, I also use other applications such as Skyscanner, Momondo, Booking.com, and Agoda to find hotels and transportation, but I would like to suggest a new name which is as good as those mentioned famous names. Plus, this application is developed by an Indonesian company. I prefer supporting local and regional friends.
8. SF cinema 
Booking a movie ticket in advance is as easy as peeling a banana. "SF Cinema" allows you to check showtimes, nearest cinemas, new movies, and movie information. You can just choose the movie and showtime, pick the perfect seats and cinema, pay via your credit card and ready to enjoy your movie night. What a convenient life in Thailand.
Ps. There is another big cinema group called "Major Cineplex" where you can watch movies and book online movie ticket in the application. I decided to pick "SF Cinema" because it is the nearest movie theater from my place.
9. Eventbrite
"Eventbrite" is available in Thailand! It is the must-have application to find connections, enhance networking skill and keep updated about several events and things to do in town. Many topics of events are categorized into different groups such as Business, Sport, Health and Fitness, Science, Drink, Music, etc. Besides, you can buy tickets to attend an event with just one touch in the application.
10. Rabbit Rewards

Last application I would like to recommend to have is "Rabbit Reward", especially those who live in Bangkok and have Rabbit BTS Skytrain card. Because every ride, you get a point, you can easily collect points from your ride and when you use your card to buy products partnering with Rabbit. There are so many products and services to redeem with the points you have such as discounts for online shopping, free ice-cream, free movie and many more.
_____________________________
So what do you think about these applications? Get them and make your life much easier. Please note that these 10 applications are personally rated according to my personal uses. There are many more good applications that were not mentioned. I am sure that will be part II of must-have applications coming soon.